Biometric Implant System
Our proprietary implant system offers a unique competitive advantage using specific materials and design of long lasting and esthetic implants with powerful e-service of digital planning and assisting.
Dental Implant design, that combines the best modern practices of oral surgery. The company has contracted a supplier of high-quality titanium alloys (Zapp Precision Metals GmbH from Germany) and an ISO 13485- 2003 certified medical device manufacturer subscribing to Good Manufacturing Practices.
ADVANTAGES OF BIOMETRIC DENTAL IMPLANT
We started developing Biometric Dental Implant System on 2011. It took us six years of planning and preparation until on 2016 we finally reached the goal. Biometric is based on our knowledge and 20 years of clinical practical experience. The idea was to create a system from dentist-to-dentists. It was inspired by a practical need to put all small important details into one innovative concept.
THE CONCEPT
Simple and universal fixture geometry
Morse-taper connection for strong fixation, bone overgrowth and better force distribution; No micro gap and micro movement
SLA surface treatment – different roughness in platform area
Self tapping and drilling design – aggressive in soft bone and gentle in cortical areas, force direction to apical part of implant
Simple universal kit and less instruments
Designed for tissue care and aesthetic results
Compatible with CAD CAM systems and prosthetic solutions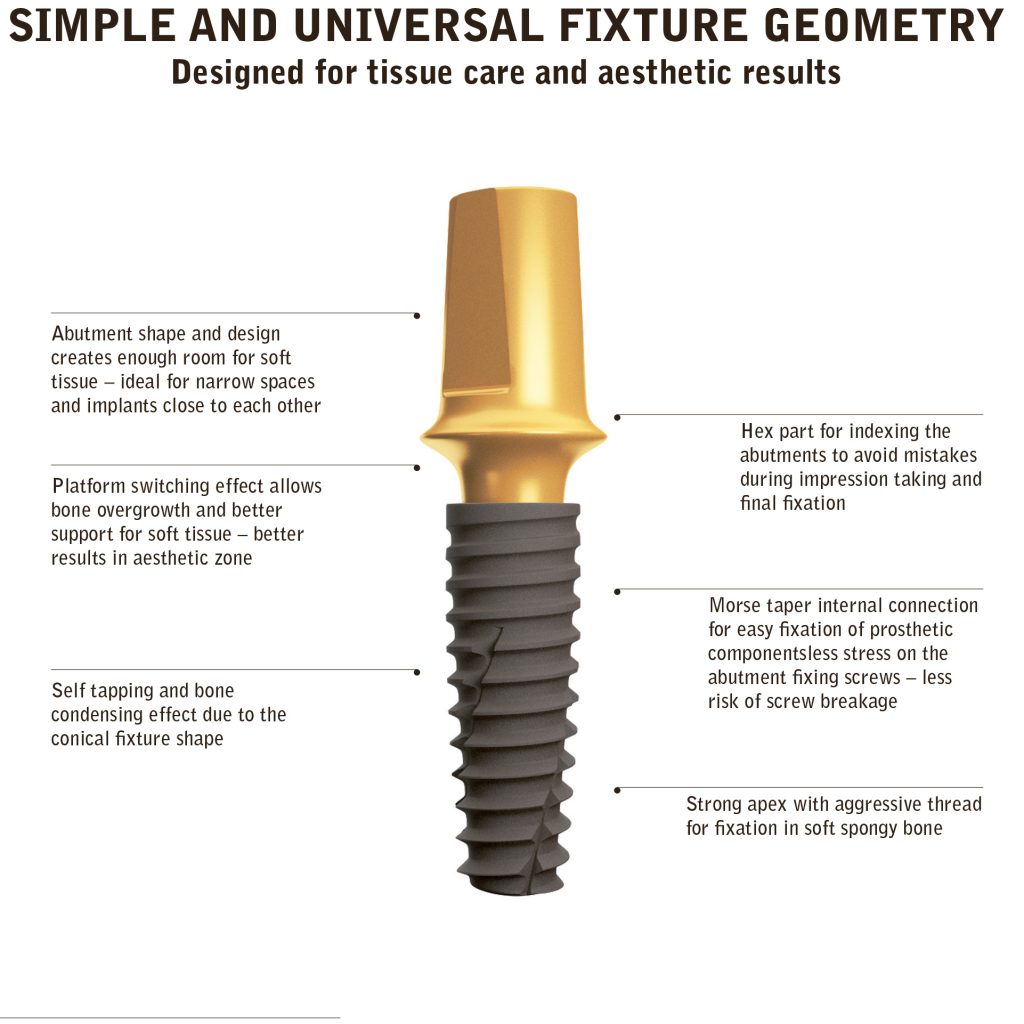 SHARP-CONICAL CONNECTION
Morse taper internal connection for easy fixation of prosthetic components – less stress on the a
butment fixing screws – less risk of screw breakage
Bone overgrowth effect
SLA SURFACE TREATMENT
Studies demonstrate that the surface roughness is important for osteoblast adhesion, proliferation, differentiation and on protein synthesis. Biometric implants have excellent SLA surface topography to ensure fast osteointegration
Platform areas have less aggressive treatment to make
it easier to clean or modify
in the case of bone loss and Periimplantitis Micro-rough surface still allows bone adhesion
Surface magnified to 3 μm
In strong cortical bone prepping is optional to avoid too much pressure during implant insertion
Fixture is self tapping – that means in soft bone no tapping or bone condensing needed to get good primary stability. Even when only 1mm of bone is available.

Simple universal kit and less instruments or details needed.
Compatible with CAD CAM systems and prosthetic solutions
CEREC Ti-Base makes link in between Biometric implant system and CEREC users; It is the most accurate and convenient way to make successful implant prosthetics because titanium abutment – ti-base and raw materials have prefabricated connection.